The Ultimate Essential Gear and Hunting Accessories to Bring to the Tree
The topic of "essential hunting gear" is often pretty controversial. Everyone has their own opinion of what item deserves a spot in their hunting backpack, and as a result, the conversation can be hotly contested. The key is in knowing which hunting accessories and gear are truly essential and which are comfort items. The first category are things that you literally couldn't hunt without, either because you didn't have the necessary tools or couldn't stay in the tree stand long enough to see a deer anyway. Then there are just "nice-to-have" items, which might keep you slightly more entertained or maybe offer a slightly more comfortable sit. Knowing the difference between the two is critical if you have to hike into your hunt (e.g., during a backcountry hunting trip) or simply don't have much room in your tree stand. In these cases, you need to eliminate the unnecessary items as much as possible. We'll only discuss the items that will offer a distinct advantage to you on your next hunt, and are therefore considered essential.
Naturally, the essential gear and hunting accessories you need will depend on what kind of hunt you're doing and what season you're in. An early September hunt for antelope on the Great Plains will require very different hunting equipment than a late December hunt for northern Wisconsin whitetails. The further north you go, the higher in elevation, or the later in the season you hunt, the more warm clothing options you'll need. On the opposite side of the coin (e.g., southern regions or early season hunts), you'll need lighter, sweat-wicking clothing to keep you cool and dry. For the purposes of this article, we'll assume we're hunting deer in the middle of the country in the early season to mid-season time frame of October (i.e., right now). Use this as a starting point and adapt your hunting gear list to your conditions and specific type of hunt.
Types of Essential Deer Hunting Equipment and Hunting Accessories 
For easier reading and organization, we've divided the different pieces of hunting gear for whitetail deer into separate buckets, if you will. From clothing to weapons to other necessities, we've got you covered. Take a glance through the different categories and see how your deer hunting supplies list stacks up before it's time to head to the woods.
Hunting Weapon-Related Gear
Depending on when the seasons open in different states, a mid-October time frame almost certainly includes bow hunting, but it may also include gun season. Either way, if you're not bringing a bow, crossbow, rifle, or shotgun to the woods with you, you're probably not going to fill your tag. But if you forget your corresponding ammunition at home, you're also going to go nowhere fast. Almost every hunter has at one point forgotten their ammo in the garage and had a very uneventful day because of it. Always keep your arrows in your bow case or carry an extra box of ammunition in your backpack throughout the hunting season to ensure you'll be able to keep hunting. And if you're bow hunting, you might also want to keep an extra release in your coat pocket…don't act like you haven't forgotten it before!
Bow, crossbow, rifle, or shotgun;
Arrows, bolts, cartridges, or shells, respectively;
Case to transport your weapon;
Release (for bow hunting).
Hunting Clothing Items
As we mentioned, clothing requirements will vary across the country and between people. Some folks run hot and some run cold. But there are some basic types of clothing that you can scale up or down. What we mean is that you can add or subtract layers or use warmer or cooler versions to get you where you need to be. The pattern of your hunting clothes is also important, as some states and seasons require you to use blaze orange, while others approve of camouflage clothing. Make sure you know which one you need. When you're deer hunting, you also need to pay attention to your scent; more specifically, you need to hunt without it. That makes scent elimination clothing so important. In no particular order:
Hat (visor to keep the sun out of eyes or stocking cap to keep head warm);
Base layers (to wick sweat away from skin);
Insulating layers (adjust for your situation);
Shell layer (water and wind resistant to keep your other layers dry and protected);
Rain gear (for when the skies really open up);
Socks (regardless of season or location, wool socks will be a valuable gear item);
Hunting boots (appropriate to keep your feet warm and dry);
Gloves (hunting with cold hands is miserable and dangerous).
Tree Stand-Related Gear
Given the title of this article, we're assuming you are indeed going to end up in a tree stand at some point. You'll obviously need to bring that with you, as well as any miscellaneous straps, ropes, chains, locks, or ladder sections to actually hang it and climb into it. Depending on what kind of hunting you'll be doing, you may want a slightly different type of tree stand. Climbing tree stands and hang-on tree stands are great for staying mobile and keeping the deer guessing. But ladder stands and box blinds are reliable stands that you can return to with no work involved. If your feet will be leaving the ground, you really should also be using a safety harness to ensure that an unexpected departure from the stand doesn't end up badly for you. Always stay connected to the tree using a harness and safety line. Safety equipment should never be considered as hunting accessories.
Tree stand (ladder stand, climbing stand, hang on stands, etc.);
Quick-Stick ladder sections (if a hang on stand);
Miscellaneous straps (for attaching your tree stand);
Chains, cables, and locks (to secure your stand from would-be thieves);
Safety harness with a safety
Other Necessary Hunting Accessories
After all of the gear above, it might seem like you're fairly covered and couldn't carry anything else into the woods with you anyway. But there are a few other hunting accessories you really need to make your hunt more productive. Assuming you actually get a deer, you're absolutely going to need a knife to field dress it. It's also just useful to have in the woods to help with cutting rope or cord or marking your license. A set of high-quality optics is also critical for noticing deer before they notice you. Depending on the area you're hunting in, you might not have a good spot to really glass a long distance (e.g., dense conifer forest, etc.). But it is really handy to assess a buck from a distance to see if he's a shooter or not before he gets close enough to see you moving. A range finder is also critical for laser-accurate bow shots. Unless you are committed to getting in and out of the woods quickly during the day, you should carry a flashlight or headlamp with you. If you've ever been in the woods once darkness falls, you know it's a completely different world. Even if you've been hunting the same area for years and spent all day studying every single trail and tree from your stand, you can lose your way in a split second once you're on the ground. Carry a light with you. You can partially eliminate the issue of getting lost by marking your trail using reflective tacks or markers too.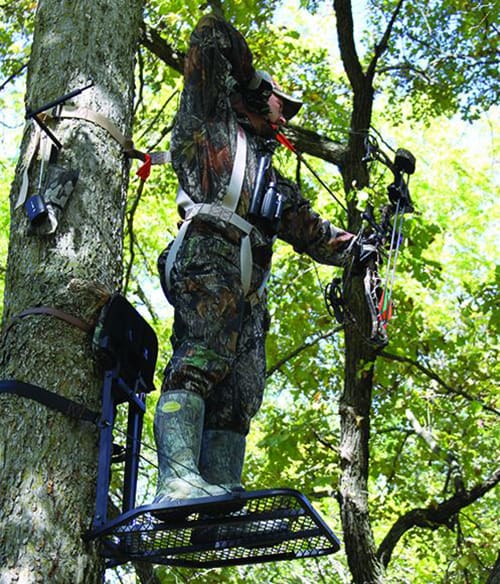 When it comes to getting closer to deer (or bringing them closer to you, more accurately), you need to pull out all the hunting accessories. Using whitetail deer calls and convincing scents will drastically increase your chance at encountering a nice buck. When used in combination, they can fool a buck into thinking there is a doe in heat hanging around, which is almost guaranteed to interest him. This is especially useful in mid-October, which is typically the pre-rut period. No matter what clothing you're wearing, you can still pick up scents from your truck or ATV, so always spray everything with a scent elimination product before you head into the woods and when you get to your tree stand.
Then there are all the other necessary items that make your life easier. A 20-foot length of rope or paracord is really helpful for many things in the woods, from hauling deer, hanging a tarp, or pulling your hunting accessories up into your tree stand with you. However, it's more convenient to use a Magna Lift for hoisting gear up into your stand. Many hunters often forget (or willingly neglect) to drink enough water while sitting in a tree stand all day, but it's critical to bring a water bottle or canteen with to stay hydrated. Since many people start their mornings with the aid of coffee, you'll find that you're suddenly very dehydrated in the middle of the day. And you can't think clearly when you're dehydrated. The same thing goes for food. If you don't snack throughout the day, your blood sugar will plummet and so will your reasoning, patience, and strength. You should always have a folding saw in your hunting pack because a near-perfect tree for a climbing tree stand could be made perfect by just trimming a few branches. Finally, keep some toilet paper in a plastic bag in your pack. Don't learn the hard way. Enough said.
Fixed blade or folding knife (field dressing, general purpose, etc.);
Binoculars;
Range-finder;
Headlamp or flashlight;
Reflective tacks and markers;
Doe can call and buck grunt call;
Doe in estrous scent and buck urine scent;
Scent eliminating spray;
Rope/cord/Magna Lift (for hauling deer or hoisting gear);
Water bottle and snacks;
Toilet paper.
It might seem crazy once you lay all of these items out that you could possibly bring them all into the woods with you. But these hunting accessories and gear items are important to help you stay comfortable all day and improve your hunting success. If you're comfortable and content, you'll be more likely to stay in the woods for the long haul until you can put a deer down. Will you need every one of these items on every single hunt? Maybe not. But when you do need them, you'll need them in a bad way. It's better to be safe than sorry.
https://www.biggametreestands.com/wp-content/uploads/2016/10/the-ultimate-essential-gear-and-hunting-accessories_Feature-e1476361811893.jpg
732
1200
Big Game
https://www.biggametreestands.com/wp-content/uploads/2018/02/BigGame-Logo-1.png
Big Game
2016-10-13 12:30:20
2016-10-13 12:51:14
Which Hunting Accessories Do You Really Need?