Box Blinds For Bow Hunting | Everything You Should Know
If you've ever looked into box blinds for bow hunting, you might have immediately thought, tightly enclosed space, just from there you probably know how the story goes. A deer comes in, finally presenting a great bow shot. As you maneuver to draw your bow back, it feels a bit cramped, but you think you can make it work by crouching down. As you release to let the arrow fly, you hear a loud clanging noise and feel the bow almost jump from your grip. You watch helplessly as your arrow sails off over the top of the deer you've been waiting for. What happened? Then you realize the bow limbs must have ricocheted off of the blind when you fired the bow, causing your arrow to fly off-course. Cue depressing music and lots of head shakes! Is this common in box blinds for bow hunting? Not always!
Whether this scenario has happened to you yet or not, it doesn't have to be your destiny. There are ways you can make box blinds work for bow hunting. It might take a little more work, but the benefits of being in a box blind far outweigh that. For example, you can sit in an enclosed blind through almost any weather, with the exception of really bad storms. If a rogue rain shower shows up, you won't get soaked. When you want to bow hunt late season whitetails, you can stay warm inside (especially if you bring along a small heater). Your scent typically stays contained better since you're not exposed to the wind currents. And you can also get away with more movement since you're fully concealed. Obviously that's useful since it ultimately helps you avoid detection longer. But it also makes a box blind a great way to introduce kids to the outdoors, since they can fidget around and stay comfortable while you wait for the action to start. Finally, elevated bow hunting blinds are generally more effective than ground blinds for archery because of increased visibility and because the steeper shot angle produces better blood trails.
But there's a big difference between rifle and bow box blinds. When you're hunting with a firearm, you don't need much vertical clearance, and you can get by with a pretty narrow shooting window. Bows on the other hand, need more vertical room for the limbs to flex and for your arms to extend when you draw it back. You'll also need to position your box blind closer to where you expect deer to move when you're bow hunting, since it requires closer shots than a firearm. So let's jump right into the specifics when it comes to box blinds for bow hunting.
How to Position Box Blinds for Bow Hunting 
After setting up a hunting blind, positioning will be critical to make it work for a bow hunt. Ideally, the blind windows should be perpendicular to (facing the) trail you expect deer to use, which will allow you to see as deer approach from either side and offer a broadside shot. Having multiple windows is useful since you can quickly adjust if the deer moves too far one way or the other.
The best location for deer hunting blinds will depend on when in the season you plan to hunt most often. Try to find a reliable travel corridor between feeding and bedding areas for the best chance of seeing a mature buck in the early season months. Bucks are still in a summer feeding pattern during this time of year and can be a little more predictable. While that location could also work throughout the season, spots near doe bedding areas may be better during the rut, since bucks will be scent-checking these spots frequently and chasing does every waking hour they have. But this approach requires strict attention to detail and discipline to pull it off (more about that below). If you'll primarily hunt the cold late season months, food is the best place to be. At the end of the season, rut-weary bucks need to really put the calories down to build their bodies back up enough for winter. Set up a box blind for bow hunting on the edge of a standing agricultural field or food plot, and you'll be amazed at the deer activity.
Invisible Box Blinds for Bow Hunting 
For the locations discussed above to really work effectively, your box blind should be as hidden and discreet as possible. This is obviously true for all hunting stands and blinds, but it's especially important with the solid blocky shape of an elevated hunting blind. Though deer can get used to seeing a large bulky shape in the sky, mature bucks usually don't fully let their guard down. So if you're hoping to connect with one of them, you should take any precaution you can by camouflaging your blind.
The Vertex box blind offers a great camouflage pattern as is, and comes with 12 large side windows and 1 roof opening to offer multiple shot angles. It has 61 inches of standing room and a 48-inch square platform, which allows you plenty enough room for a kneeling or seated bow shot. Before each shot, make sure to leave several inches of clearance in front of and above or below your bow limbs to make sure you don't contact them. This combination makes it one of the best box blinds for bow hunting.
But if you want to take it a step further, add some more natural camouflage materials to hide it. Here are a few ideas if you're wondering how to camouflage a hunting blind. First, locate your box blind among and around existing trees with lots of vertical and horizontal structure to break up the bow hunting blind outline against the background. Then use twine or zip ties to attach cut limbs and branches to the platform's steel poles and rails. To make it look as natural as possible, step back often to see how well it blends in. While it should go without saying, use similar branches from the area so that it disappears with the surrounding vegetation. Ideally, you should attach branches all the way up to the blind, so it looks like a hedge or clump of trees. Though you can build your own wooden deer blinds and camouflage it with paint, homemade bow hunting blinds aren't as reliable and safe as an engineered one.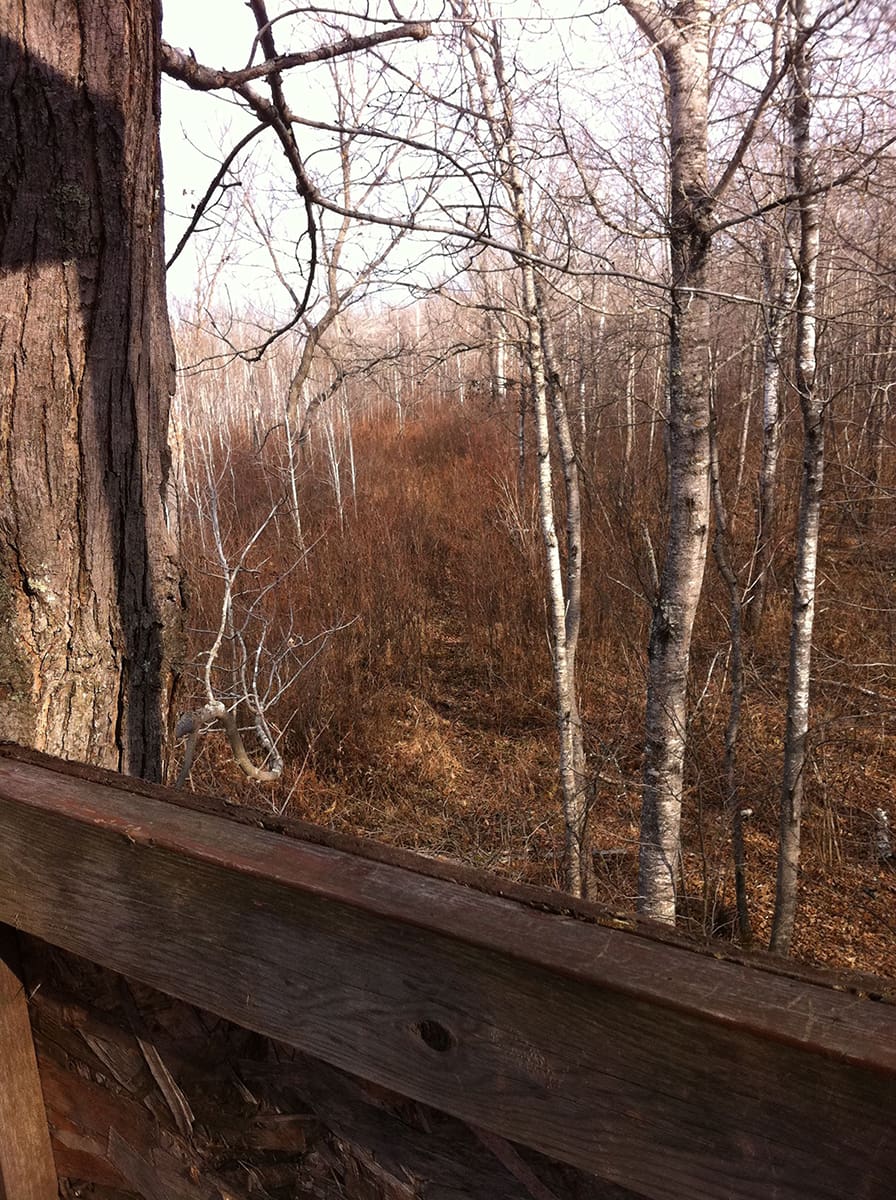 Make sure to get all this work done well in advance of archery season, so the deer have time to get used to the new trees that mysteriously sprouted up overnight. Going through this work will keep you more concealed in your hunting blinds but it will also hide your ladder access, which is a good segue into the next topic.
Access Trails to Bow Hunt from a Box Blind 
Assuming you've followed the deer hunting strategies above, you're off to a good start. But you can quickly throw your luck and hard work out the window if you have a poor access trail. What exactly is a bad entry and exit route and how can you tell? Well, if you can't get to your bow hunting box stands without alerting deer in bedding or feeding areas to your presence, then you've already failed. With more mobile tree stand options and deer hunting ground blinds, you can easily move when the deer bust you. But with all the effort that goes into installing box blinds for bow hunting, you need to be hyper-vigilant about each detail of your hunt so you can make that location last as long as you can. Thinking of them as permanent hunting blinds switches your frame of mind, so that you'll take better care with hunting them until the conditions are perfect.
The key is to not let the deer pattern your behavior and movements. Make no mistake, if a whitetail starts to hear and smell a hunter going to the same location each morning, they will avoid that area pretty quickly. Try to plan your access trail to approach from a downwind location that doesn't cross any major deer trails or go too close to a food plot, agricultural field, or known bedding area. Another part of hunting intelligently is to play the wind at all times. If your box blinds for bow hunting are upwind of a food plot one morning due to shifting conditions, just stay out of them. You'll probably only spook deer, and you could make that particular box blind location useless for seeing big deer again during the season. It takes a lot of discipline to do this, but dedication is important.
Whether you are looking for a box blind for bow hunting or a tree stand for bow hunting, before you purchase, you need to have clear strategies in place. For example, if you're hunting near a bedding area, make sure you approach very early before sunrise to allow deer to filter back in when the sun comes up. Or you can approach very quietly during daylight, moving at a stalking pace for the last 100 yards. Bedding areas can be hot spots, but you need to only hunt them when the situation is right. If you're hunting near or on a food source, however, you need to enter it only during mid-day since deer should not be feeding during those hours. But this poses a problem, since deer will enter the feeding area again in the evening, just before you need to leave. If you were to just get down, they would spot and hear you and know to avoid that area in the future. A smarter method is to use a buddy system, where a friend or family member approaches the plot after sunset with a vehicle or ATV. This bumps the deer off the field, allowing you to get down, all while not educating deer to the location of your bow box blinds.
In summary, box blinds for bow hunting are really useful tools as part of an overall hunting plan. They allow you to stay warm, dry, and concealed from a deer's senses, which means you can hunt longer and have a better chance at putting a mature buck on the ground. Using the tips listed above, you might just be successful this season.
https://www.biggametreestands.com/wp-content/uploads/2016/07/box-blinds-bow-hunting_Feature.jpg
866
866
Big Game
https://www.biggametreestands.com/wp-content/uploads/2018/02/BigGame-Logo-1.png
Big Game
2016-07-26 14:36:57
2018-06-21 16:12:00
Big Game Box Blinds For Bow Hunting and Deer Hunting